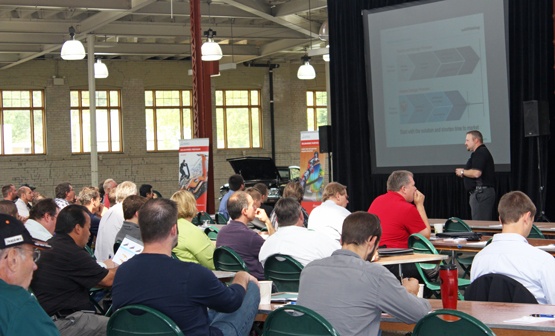 Engineers and designers from Minnesota, Iowa and Wisconsin joined us on September 23rd for a car-themed simulation event + classic car show at the Minnesota State Fairgrounds.
For those of you who weren't there, here are the highlights!
Morning Agenda:
Linear Analysis and Design Optimization
Presentation by Brian Zias - Territory Technical Manager at SolidWorks Corporation
"We have earned our place on the world's fastest performance cars." – Forgeline Motorsports
For those who hadn't heard of Forgeline, Brian filled us in. Forgeline Motorsports manufactures the world's finest custom made-to-order lightweight forged aluminum street and racing performance wheels for the most demanding applications.
Brian's session covered how they addressed various market forces with simulation to gain performance – addressing questions like: Will it break? What's my Factor of Safety? Can we make it lighter?